Shop with purpose and help restore coral reefs !
We all love turquoise water, vast marine life and coral reefs in this Caribbean paradise.
Global warming, ocean acidification, overfishing, ignorance and our consumerism habits as humans, have a deeper impact in coral reefs that we either know or want to accept.
With each purchase , you are restoring corals in Cozumel and Mayan Riviera, México.
It's time for us HUMANS to unite 4 coral REEFS.
¿What are corals?
Corals are tiny animals, they are colonial organisms. This means that they are composed of hundreds of thousands of individual animals, called polyps. 
Each polyp has a stomach that opens at only one end. This is their mouth and it's surrounded by a circle of tentacles. The polyp uses these tentacles for defense, to capture small animals for food, and to clear away debris.
Most reef-building corals (hard corals) also contain photosynthetic algae, called zooxanthellae, that live in their tissues. The corals and algae have a one of a kind mutualistic relationship.
The coral provides the algae with a protected environment and compounds they need for photosynthesis. In return, the zooxanthellae produce oxygen, help the coral to remove wastes and supply the coral with glucose, glycerol, and amino acids, which are the products of photosynthesis.
The coral uses these products to make proteins, fats, and carbohydrates, and produce calcium carbonate. This is the amazing driving force behind the growth and productivity of coral reefs.
LEARN MORE
¿What is happening with coral reefs?
Coral reefs have been in global decline because of us humans. Global warming and ocean acidification, are the main reasons, ¿how, you might ask?
With more and more green house gas emissions released to the atmosphere, due to our civilization's way of living, fueled mainly on fossils and based on a food system that relies on industrial farming (meat, dairy and fishing industries), and if you add on top of this, the massive deforestation currently happening around the globe, the result is the elevation of the planet's temperature including the oceans, and the loss of entire ecosystems.
Oceans and coral reefs serve as natural filters; nature is very wise and it is prepared to deal with challenges, however oceans are battling to filter these huge amounts of toxic emissions, and at the same time dealing with the massive problem of plastic and chemicals released directly and indirectly into them; we are literally suffocating our oceans.
CONTINUE READING
Products with purpose
Our products are beautifully unique creations designed by humans that want to raise awareness on the planet and ocean's health.
Our tees are made out of 100% combed cotton which is nice, soft and fresh, most important no micro-plastic fibers are released into the ocean with this fabric.
Our tees are done in serigraphy and the inks are water-based, meaning there aren't any heavy metals or petroleum derivatives that are harmful to the planet and us humans, creating a fresh eco-friendly shirt.
We are committed to generate as a brand as less as possible impact in the environment, therefore our shipping packaging contains zero plastic.
ARTISTS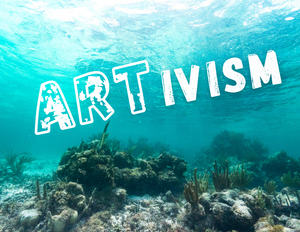 ¿Why are coral reefs important?
- Coral reefs generate around 50-85 % of the air humans breathe, the rest of the oxygen is generated by trees and rainforests.
- They serve as nature's water filtration system.
- Control how much carbon dioxide is in the ocean water.
- They are an important food source for a lot of humans and communities that rely entirely on fishing as their way of generate income for their families and to feed themselves.
- Different corals are used in medicines for humans, for example medicine for cancer, virus, Alzheimer, heart disease and many more.
- Coral reefs generate jobs and business supporting millions of families through direct and indirect tourism.
- Coral reefs protect humans; they act like natural barriers against storms, hurricanes, big waves and currents.
These are only a few examples of how much coral reefs give us. So, the real question is ¿Why we wouldn't take care of them?
LEARN MORE
You shop, we restore corals.
With your support we will:
· Restore corals with our partner  Cozumel Coral Reef Restoration Program, with each tee you purchase, you help us obtain 1-2 diving oxygen tanks for the team to restore at least 5 corals per tank.
· Volunteer the program and get more humans to sign up for volunteer work at the program; this way we will be able to help Dr. German to create larger coral restoration areas and nurseries in Cozumel.
· COMING SOON: Create a restoration area with a unique and organic technique, that allows the rehabilitation of the reef. An area where everyone can come and learn about corals and how to restore them. Our long term goal is to replicate this in as many reefs as possible in Quintana Roo and all of México.
· Collaborate with different programs and marine biologists in coral restoration projects and events such as coral spawning in Mayan Riviera, Mexico.
· Raise awareness on our oceans health and coral reefs and the direct relation between fishing, meat and dairy industries.
· Create awareness on our day to day habits, and how each and one of us can help by transitioning into a more sustainable way of co-existing with nature and our planet.      
RESTORATION PROJECTS
¿What can you do to help?
Coral reefs are considered the "rainforests of the sea", is home to more than 25% of total marine species in the ocean and gives shelter and provide food to them.
Is one of the most important and unique ecosystems in the planet and it can provide great resources and benefits for us humans. Sadly, coral reefs and the entire marine ecosystem is collapsing because of human activity.
The time for mild actions is long gone, we are in the middle of a climate crisis and we need a radical change as a species, to mitigate as much as humanly possible green house emissions and climate change.
Our global food system dominated by industrial animal agriculture; is at the heart of our environmental crisis, as simple as that.
The easiest and quickest thing you can do to help coral reefs and fight global warming today, is to cut off or cut down your consumption of animal products. 
We have the power to create change 3 times a day, every single day; how extraordinaire is that?
It's time for us humans to learn to co-exist with nature.
You can also volunteer, donate or shop with purpose to help the conservation efforts.
CONTINUE READING
THANK YOU CORAL GANG!
Thank you to all of the amazing humans that have supported us from the start, you all know who you are and this is a small tribute to all of you.
Thank you for becoming part of this movement of humans that want to leave this planet better than we found it, is not an easy road, but it is the most rewarding!
Thank you for supporting actions that are directly aimed at the benefit of this ecosystem that needs to be preserved and protected;  the easy and comfortable thing is to do nothing, but that is not the case with all of you, and that fills us with happiness and hope!
By using our beautifully unique design tees and products, you are now a speaker and ambassador of our mission. Wear them proudly!